Water Mitigation: What Is It?
10/1/2021 (Permalink)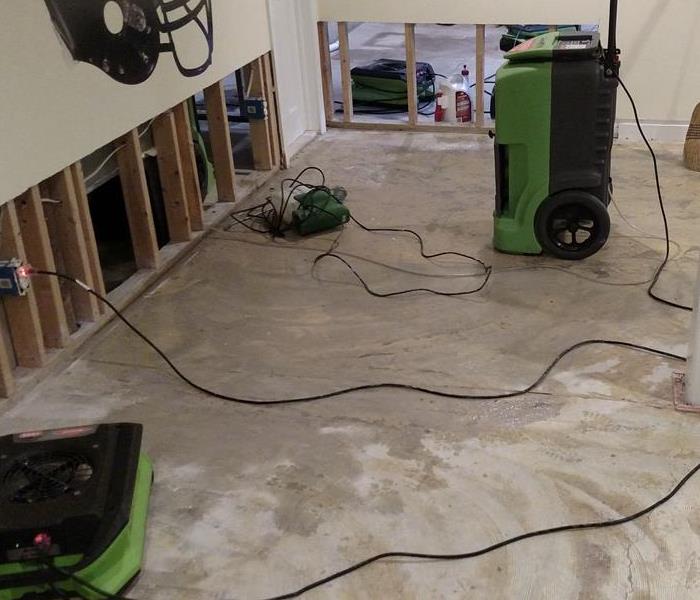 Water mitigation refers to taking steps to lessen the impact of water damage or flooding in your home.
When you experience flooding or water damage in your home, you may come across the term "water mitigation" when it comes to restoring your home to preloss conditions. But what is water mitigation and what does it entail? Is it the same as water restoration? Here, we will review just what water mitigation is and the process that it entails.
Water Mitigation Definition
Mitigation refers to the process of making something less severe, dangerous, painful, harsh, or damaging.
Thus, water mitigation refers to taking steps to lessen the impact of water damage or flooding in your home. The goal during mitigation is to prevent further damage, so that more of your property can be salvaged or be unaffected.
Mitigation does not refer to restoring your property to pre-damage conditions - that would be classified as water damage restoration services. But, mitigation and restoration do work hand-in-hand, with mitigation first and restoration following.
Water Mitigation Services
The water damage mitigation process is not one size fits all, as every water damage event is unique. But, the process does have a framework that is adjusted based on your damages:
Determining The Cause & Type of Water Damage
Water Cleanup
Cleaning & Disinfecting
Drying & Dehumidification
1. Cause & Type of Water Damage
Before a water damage company like SERVPRO of Saratoga Springs, Gansevoort can perform any emergency services, they must know the cause and category of your water damage. This is so they can make sure to create the proper mitigation plan for your property. The cause of water damage will determine if any repairs are needed before cleanup can begin. The category of water damage will guide how to clean up and what materials can be saved rather than thrown away.
Then, the type or category of water damage would be identified to guide your cleanup. In the case of sewage, it would be considered Category 3: Black Water, which is extremely hazardous when you come into contact with it without the proper protective equipment. The presence of black water changes how the company can remove it, clean up, sanitize, and determine what materials can be salvaged.
2. Water Cleanup
The next step in the water mitigation process is water removal. In an emergency flooding situation, extracting water as soon as possible will help reduce damages to walls, floors, and ceilings. Rapid water cleanup also helps prevent water from migrating to other areas of the home and causing further damages. The goal of water cleanup is to lessen the impact of flood damage as much as possible.
3. Cleaning & Disinfecting
During water mitigation, cleaning and disinfecting refers to a wide range of processes. This can include cleaning salvageable contents, cleaning and disinfecting affected areas, and taking steps to prevent mold growth. The scope of this step depends on the cause and category of water damage in your home.
For example, a sewage pipe break would require much more cleaning and disinfection than a water heater leak. The sewage pipe is Category 3 water, while the water heater would be Category 1: Clean Water and not require intense cleaning & disinfection.
4. Drying & Dehumidification
The last step in water mitigation is completing the drying process. Drying wet, but salvageable materials helps make the restoration process much less costly and severe. Mitigation companies will use commercial grade air movers, dehumidifiers, and drying mats to help cut down on restoration costs in your home. Depending on the extent of your flooding or water damage, some materials may still have to be thrown away, but an experienced water mitigation company will be able to save as much as possible.
What Comes After Water Mitigation?
Clearly, your home will not be brought back to normal conditions after the water mitigation process. After mitigation, water damage restoration is needed to repair and restore your home.
Water damage restoration companies do the following:
Replace damaged walls or flooring
Perform mold remediation as needed
Conduct moisture testing to ensure all issues are addressed
Replace any materials that were temporarily taken away, such as wall trims or carpeting
While water mitigation and restoration are separate processes, they can and should be performed by one water damage company.
This will help ensure that your home is restored in a seamless process. If you find a company that only provides mitigation services, consider searching for one that provides restoration and mold remediation services as well. This will just help ensure that your property is brought back to pre-damage conditions as soon as possible.